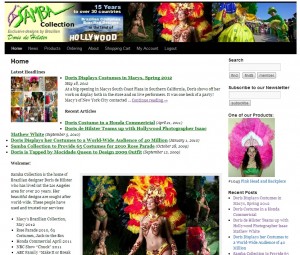 After 15 years on the internet (launched in 1997), Samba Collection has launched a new website based on WordPress and Groupum software. There are many new features for clients on the website to make your experience better!
Client Register and Invoices
The new website allows clients to see there invoices and payments online at any time.  Existing clients will receive an email with their login information.  Your username is your email and a password was assigned to you.
Shopping Cart
There is also a shopping cart that allows you to choose costumes you are interested in and you can add a note and automatically send us an email from the site asking about our current prices. No, you can't buy anything online right now, but it makes asking about products you are interested in much easier.
Find Things Easier
Another new feature allows you to search our products by number, color, or other descriptive words.
One of our First Websites Archived Online
Just for fun, one of the first versions of the Samba Collection website can be found at archive.org: http://web.archive.org/web/19980110120433/http://sambacollection.com/