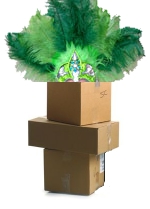 We do not normally have anything in stock. That is because make most all our order to fit the size, color, and quantity requirements of our clients. Normally, orders take from 6-12 weeks depending on the size and complexity of the order and the designer's schedule. It is best to order custom work a few months in advance.
We cannot guarantee a delivery date!
Please click here to read our deliver policy
Orders from Long Distance
The first question we get is how do we make clothes or costumes without ever meeting the client in person. We have worked over 11 years with orders over the internet and take sizes by getting specific measurements needed for a particular costume or piece or pieces of clothing. This method has worked quite well over the years with nothing being returned because of size or fit.
Deposit
A nonrefundable deposit of 1/2 the value of the order must be received before work can start on costumes or clothes orders.
Payment Methods
In the United States, we accept credit cards by telephone, by Paypal (Visa, Mastercard, Discovery, and American Express), money orders, and electronic money transfer.
We do not accept personal checks.
International Orders and Payments
Over 50% of our clients are outside the United States. We accept Paypal and electronic money transfers from outside the United States. No checks or credit cards are accepted. We will instruct you what bank account you will need to wire the money.
Needed Measurements
When making a costume for a woman, Doris asks for the following measurements:
Bra size
Jean size (American)
Height
Weight